Steps to Install Norton Internet Security 2011: Here you can find Installation Guide for Norton Internet Security in simple step by step format.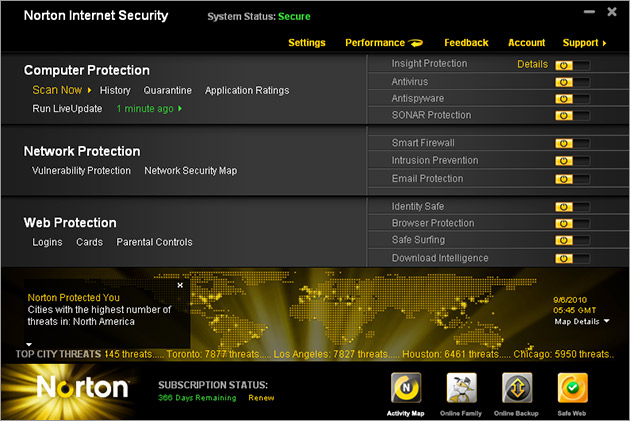 STEP1: Before the installation of Norton Internet Security 2011, one must fulfill minimum
Requirements like Windows XP/Vista/7.
STEP2: Remove all the anti-virus or firewall programs before the installation.
First click the start button and then click on control panel.
According to the version of Windows select any one of the following:
For Windows XP, double click for Removal or Addition of the Programs.
For Windows 7 and Vista, click Uninstall a Program.
To remove anti-virus or firewall program click on the install program then click on Uninstall or Remove.
Stick to the instruction on the PC screen.
Restart the computer after uninstall is completed.
STEP3:To install and activate Norton Internet Security
Do any one of the following depending on the situation:
To install Norton Internet Security purchase CD, insert it in the CD- ROM drive and click it will be install.
To download the copy of Norton Internet Security double-clicks on the file that you need to download.
If not interested in joining Norton Community Watch then the options is checked by default and if one wants to change to new location click Install Options, and then click
Browse and you can locate the new location, click OK.
Click close after going through the User License Agreement.
Norton Internet Security get automatically launched after click on agree and install.
To Activate Now click to the button on the right bottom corner.
Click next after typing in your product key.
Type the email address in the Norton Account then click Next.
Create Norton Account if you do not have the account then click next or if you have the Norton Account then type the password.
Survey the description details then click on done.
Norton Internet Security 2011 B Install and Overview Video 1
Norton Internet Security 2011 B Install and Overview  Video 2