Download Ezvid free screen recorder for windows captures and   records your desktop screen, edit video, and narrate video with automatic digital speech support
Ezvid Free Screen Recorder Download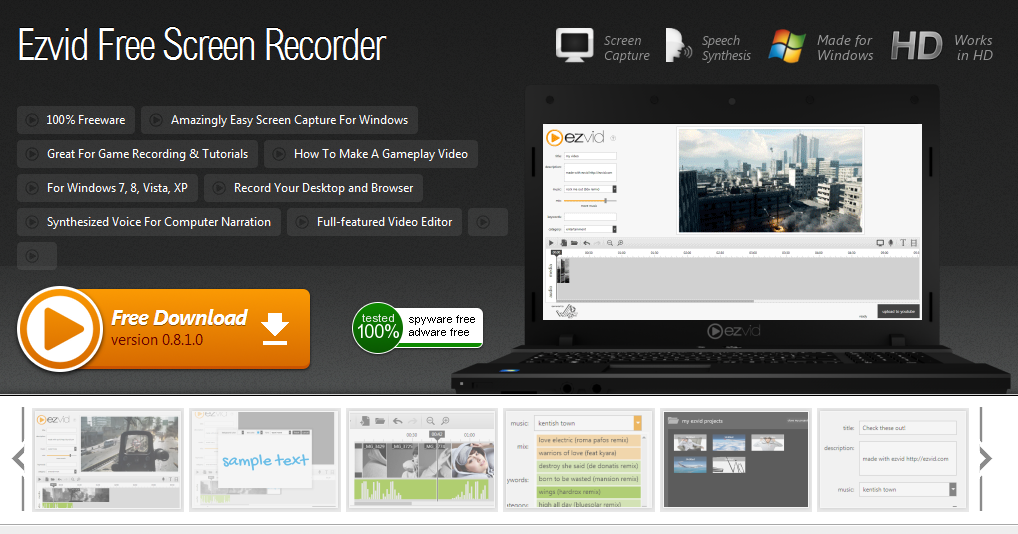 Ezvid Free Screen Recorder gives best performance than simple screen recorders.  This free screen recorder makes videos with HD quality, besides supports screen scaling, capturing, video editing highly on windows. You need not be registered, signed up with this tool to make videos.
Ezvid Free Screen Recorder Over View:
Ezvid Free Screen Recorder is designed with an intuitive interface consist of modern controls like parallel recording of screen and voice, webcam, voice creation, etc. If you don't like the sound, change it using voice creation feature. This free screen recorder enables you edit videos with built-in video editor supports all video, image formats.
What's new? It is the first Free Screen Recorder Editor that introduced "Speech synthesis" feature for windows users. For this, you need to create text slide, click Synthesize speech" then automatically digital speech will be generated helps to illustrate the video.
Easy Steps To use Ezvid Free Screen Recorder For Windows
Frankly say, very simple to use Free Screen Recorder. Install it, click "screen capture", recording will start. That's it. You can record game plays, browsers, and desktop screen to create variety videos. You can annotate the video with many video editing tools.
Most importantly, Ezvid is a Free Screen Recorder, free movie maker and free slideshow maker as well. It is 100% freeware, free for you, offer quick download. This free screen recorder is perfect for gamers, schools and professionals.
Ezvid Free Screen Recorder for Schools:
Makes attractive presentations, tutorials to students to make the teaching easy
Complex concepts, theories, diagrams can be attractively made as video and can show it to students.
Ezvid Free Screen Recorder for Other:
Ezvid Free Screen Recorder  developer website: http://www.ezvid.com/