How to download Comodo Internet Security
How to download Comodo Internet Security: Here you can find Comodo Internet Security free download including Comodo Internet Security installation guide on windows xp and windows vista.
This is not just any other antivirus for your computer. Comodo Internet Security is a very advanced version of antivirus with many special features for your computer. It secures your computer from Trojans, virus and spywares and also has a special sand box feature which secludes the files with un trusted sources from rest of your computer. It checks the authenticity of every program before it can enter in to your system's memory.
The new improved network firewall engine of the Comodo Internet Security provides you highest security against hackers, identity thieves and malwares. And this time it has come with some more special features as an add on which will make your system highly secure from inside as well as outside security threats.
It provides your system a comprehensive Antivirus Protection. And it is very easy to install and user friendly. Also it protects your system in the background. Its intuitive graphical interface helps making it more users friendly.
Minimum System Requirement for  COMMODO Internet Secirity:
1. Windows 7 (Both 32-bit and 64-bit versions), Windows Vista (Both 32-bit and 64-bit versions) or Windows XP (Both 32-bit and 64-bit versions)
2. Operating system should be Internet Explorer Version 5.1 or above
3. There should be 128 MB available RAM on your system
4. There should be 210 MB hard disk space for both 32-bit and 64-bit versions
Please follow the below steps for installation of the Comodo Internet Security antivirus software on your computer:
Step1. For downloading Comodo Internet Security set up files to your local hard drive your computer please click on the following link: Comodo Internet Security Download
After that please double click on cispremium_installer.exe to start the installation wizard
Step2. The below 'select the language' dialogue will appear after the automatic start of installation wizard. The security software is available in all languages. Select the language in which you want to install the Comodo Internet security.
Step 3. After selecting the desired language in which you want to install the software the below end user license agreement screen will appear. Please read and select 'I accept' if you want to continue installation or 'Cancel' if you want to cancel it.
Step 4:
Now you have to choose the components of the software that you want to install on your system. It is recommended that you should uninstall any other firewall and antivirus to ensure maximum protection. It is also recommended that you should select both select both the Comodo Anti virus and Comodo Firewall options (installation of both is mandatory for Pro and Complete customers). Customers will also have to install Comodo TrustConnect (optional for users of the free product).
Step5: Now extraction of the files that are required for installation of the software will take place. The below window will appear:
Step6: The next step is that you have to select the path for i.e. folder in your hard drive to install Comodo Internet Security software. Please see the below screen. Select the desired location on your hard drive and then click next. The default location would be C:\Program Files\Comodo\Comodo Internet Security.
Step 7: You are required to choose the security level of the firewall if you did not choose the install antivirus component in earlier step. If you had already chosen the antivirus installation component in the previous step just skip this step.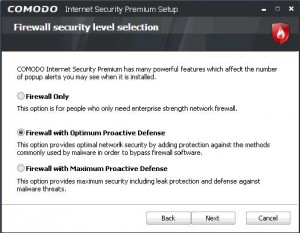 Select the option that you want and click next.
Step 8: Comodo Secure DNS service will replace your old DNS Servers and will provide solution to all your DNS requests and query via Comodo's proprietary Directory Services Platform. The DNS setting of your computer will be automatically changed. You can choose to disable the service at anytime and get back to your previous settings.
Please click on Comodo Secure DNS Service for more details.
And to know how to enable or disable the service, refer to Appendix 1 Comodo Secure DNS Service.
After choosing the option according to your choice click next.
Step9. The set up wizard will require your confirmation to start the installation procedure, the following screen will appear.
Click install to confirm and start the installation.
Click Back to review and modify the settings you made in earlier steps
Below screen will appear after you have clicked the install button
On completion, the below screen will be displayed
Click on finish tab.
Step10.
Now the confirmation window will appear
Again click on finish button.
Your computer will need to be restarted to take installation in to effect.
Please save all your unsaved data before clicking on yes. You can also manually restart the computer by clicking no. Please note that installation will only take effect after the restart of the computer.
Step 11.
After the restart of the computer the below window will appear.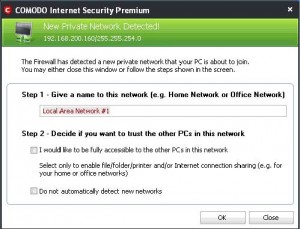 Step 1: Every user including home user with single computer will have to configure the home network to connect the system to the internet.
Step 2: If you want your system to accept the other PC's in this network (e.g. a work or home network) or for printer sharing, then select the option. After you choose this option, this will become a trusted network. Single computer user at home should avoid this option.
Select 'Do not automatically detect new networks' If you want to set-up their own trusted networks manually..
Please click OK to confirm your choice.
Leave a Reply